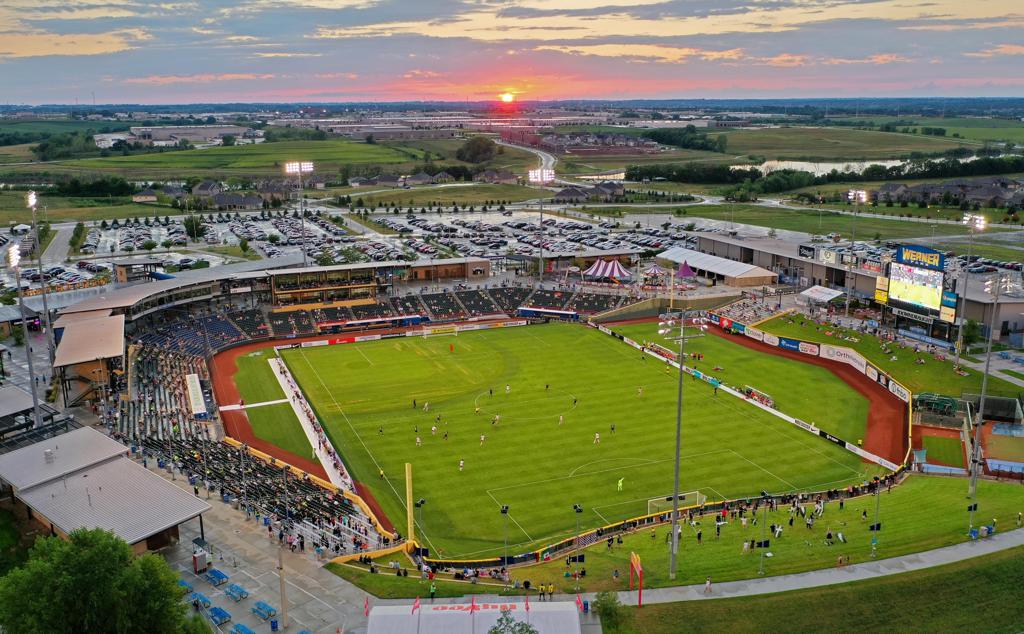 Werner Park
Werner Park is a unique outdoor venue which is home to Union Omaha and the Omaha Storm Chasers, the Triple-A Affiliate of the Kansas City Royals. Sarpy County, NE owns the facility which is operated by the Omaha Storm Chasers Baseball Club.
Built in 2011, the stadium offers 6,434 permanent seats, 15 private suites, three Hospitality Tents, the Jack Daniel's Club with an indoor bar, Boardroom Space and grass berm seating for approximately 3,000.
Werner Park will undergo construction beginning in the Fall of 2019 to ready the stadium for soccer. The stadium upgrades, funded by Sarpy County, will include additional locker rooms, field enhancements, and offices for the soccer staff.
Werner Park will also be the site for Union Omaha's team store.
ADDRESS
Werner Park12356 Ballpark Way Papillion, NE 68046
ADVANCE TICKET WINDOW
During games, fans can purchase tickets for future games at the Advance Ticket window. This window is located behind section 114 and is open from gate opening until the end of the game.
TICKET BOX OFFICE
On match days, the Ticket Box Office is open three hours before kick-off. Normal business hours from Monday – Friday are noon to 5 p.m.
GATES
Gates open at 6 p.m. for a 7 p.m. game, be ready to enter through metal detectors and have your tickets ready to be scanned.
PARKING
Parking lots will open three hours prior to kick-off, 4 p.m. on game days
TEAM STORE
Team store opens at 4:00 p.m. and closes at 10 p.m. on game days.
ALCOHOL & DRUGS
Anyone drinking alcohol under the legal age, using illegal drugs, or breaking any other laws will be subject to immediate removal from Werner Park and will be reported to proper authorities. Any fan perceived to be in an intoxicated or impaired state may be denied admission.
ANIMALS
No pets will be allowed entry into Werner Park, except service animals and during specific events that have been designated as pet-friendly by Union Omaha management.
ATM
There is one Pinnacle Bank ATM located inside Werner Park. The ATM is located near the restrooms behind section 111, in between Hot Dog Nation and the CHI First Aid room.
DIAPER CHANGING LOCATION
Diaper changing tables are located in all restrooms at Werner Park.
BAGS
A bag taken to any ticketed event at Werner Park must be a transparent plastic, vinyl or PVC tote. Bags must be no larger than 16" x 16" x 8". Guests may also bring small or clutch-sized purses/wallets not exceeding 4.5" x 6.5" Staff members are not allowed to hold or store bags during an event. Staff members are happy to make special accommodations for bags with medical necessity. However, each bag will need to be properly searched by security before entrance.
BANNERS AND SIGNS
Fans are allowed to bring small banners and signs as long as they are not offensive and do not obstruct the view of other fans. Omaha Storm Chasers management has the right to remove signage.
BASKETBALL COURT
The half-court Papillion Montessori Preschool Basketball Court is located in left-centerfield. This area is free for children.
BERM SEATING (LAWN)
McDonald's Berm seating is general admission and is first-come, first-served. Blankets and towels are allowed, but lawn chairs are prohibited.
BICYCLE RACKS
Bicycle racks are located outside of Gate 2.
BIG TOP PARTY TENT
The Big Top Party Tent is the largest party area in Werner Park. This area is located behind the Centris Family Fun Zone, near the left field foul pole and is perfect for any sized group. For information on booking this area, fans should call 402-738-5105.
LACTATION STATION
For those who wish to breastfeed in private, accommodations are available at Werner Park in the family restroom located next to CHI First Aid. Storage for pumped breast milk is also available at CHI First Aid but will be disposed of, if not claimed after the game.
BROADCAST INFORMATION
All Union Omaha games are broadcast live on ESPN+ and on Mav Radio with Owen Godberson, the play-by-play voice of Union Omaha. Listen on KVNO 90.7 or stream at mavradio.fm
BUD LIGHT DOWNDRAUGHT BAR
The Bud Light Downdraught Bar is located behind the left-field berm seats under the scoreboard and is open to the public every game.
CAMERAS
Hand-held video cameras for personal use may be brought into Werner Park, provided game action is not recorded, as prohibited by USL League One. Single frame photography is permitted at all times. Professional photography equipment, cameras with lenses larger than four inches and camera support pods are not permitted. Fans are requested to avoid standing in the aisles while using this equipment. Fans should not obstruct the views of others while taking pictures and refrain from using tripods, monopods and other camera support pods.
CENTRIS FAMILY FUN ZONE
The carousel inside the Centris Family Fun Zone will only be $3.00 for kids over 3 years of age. This 6,500 square foot kids' area located behind left field. To receive free access (up to four attendees) in the Centris Family Fun Zone, fans may show their Centris ATM, Visa Credit or Debit card upon entering.
CONCESSIONS
The concessionaire at Werner Park is Spectra Food Services and Hospitality.
DRINKING FOUNTAINS
Drinking fountains are located next to every restroom throughout Werner Park.
DRONES
Drones are not permitted at Werner Park during USL League One games.
ELEVATOR
Werner Park has one elevator located near the Suite and Press entrance.
EVACUATION
In the event of an evacuation of Werner Park, all fans are to abide by the directions of authorized personnel.
EVENTS
To inquire about events and available event spaces contact Andrea Bedore at andreab@omahastormchasers.com or call 402-738-5115.
RE-ENTRY
Union Omaha operates under a "no re-entry" policy.
FAMILY RESTROOMS
There are two family restrooms located inside Werner Park. One is located on the main level by the CHI Health First Aid office and one is located on the Press Level between the restrooms.
FAN CODE OF CONDUCT
Union Omaha staff are committed to creating a safe, comfortable, and enjoyable experience for our fans at Werner Park. Our staff will proactively intervene to support an environment where fans can enjoy the Werner Park experience free of unacceptable behavior, including the following:
Foul/abusive language or obscene gestures
Intoxication or other signs of impairment related to alcohol or drug consumption
Displays of affection not appropriate in a public, family setting
Obscene or indecent clothing
Any disruption of the game or event, including throwing of objects or trespassing on the playing field or in restricted areas
Viewing the game in a location other than the fan's ticketed seat
Fighting, taunting, or making threatening remarks or gestures.
Any fan not adhering to the code or behaving in an unruly manner may be removed from Werner Park. Union Omaha and Werner Park management reserve the right to determine unruly or unacceptable behavior.
FAN MAIL
Cards and letters to players and personnel can be sent to:
Union Omaha c/o Player or Coach's Name
12356 Ballpark Way Papillion, NE 68046
The front office staff is NOT responsible for anything sent directly to be signed by a player. The staff does NOT accept autograph requests on behalf of the players. The best option is to mail the request and the item to be autographed directly to the player at Werner Park as well as a self-addressed/postage-paid envelope. Once you have mailed your item, it is up to the player to sign anything and return it. The front office staff is not responsible for any items mailed to the stadium.
FAN SERVICES
The AAA Nebraska Fan Services kiosk is located behind section 115. A staff member will be onsite to answer any questions throughout the game.
FIRST AID OFFICE
The CHI Health First Aid office is located behind the Jack Daniel's Club.
FIREARMS
No firearms are allowed within the ticketed areas or parking lots of Werner Park.
FOOD (OUTSIDE)
Fans are not allowed to bring any outside food into Werner Park. However, fans are permitted to bring certain food or drink with them for specific medical conditions and formula for babies. The only outside beverage item allowed is one sealed bottle of water with the label removed.