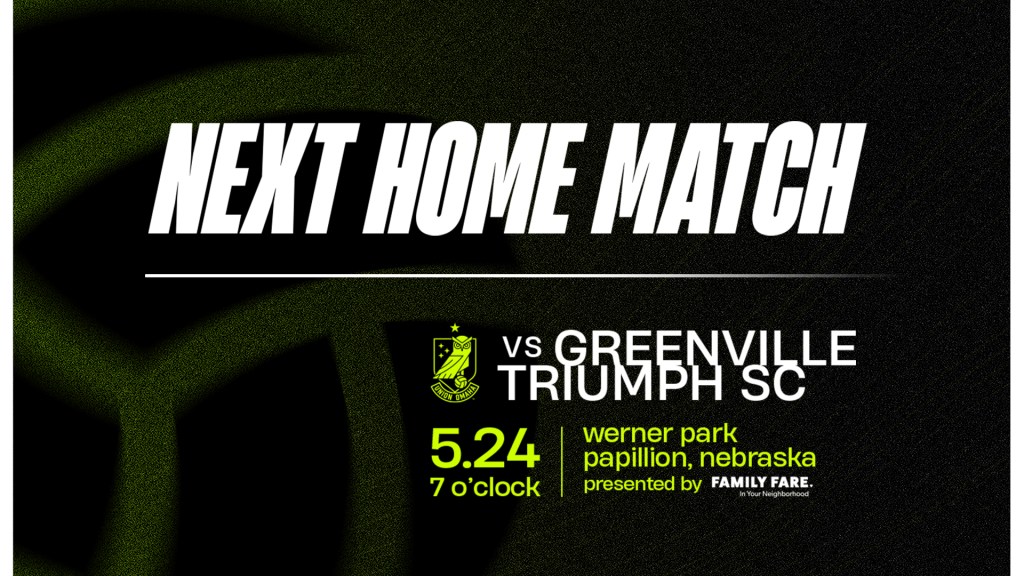 Welcome back to Belt Week! The Owls welcome fellow USL League One heavyweight Greenville Triumph SC back to Werner Park for the first time this season. Omaha is coming off a dramatic, but exciting weekend contest with Chattanooga, where the Owls and Red Wolves battled to a thrilling 3-3 draw. Pedro Dolabella and Alex Steinwasher each scored their first league goals for the club, while Joe Gallardo added his second. Omaha preserved a point at the death thanks to a clutch last-minute save from Rashid Nuhu in goal. Now, los Búhos will look to regroup and round out the week with two big rivalry wins at home, starting with Greenville Wednesday night.
OPPONENTS' ACHIEELES' GIL
Nearly a third of the way into the League One regular season, Omaha is near the top of the league in multiple offensive categories, including 1st in passing accuracy, 2nd in average possession and 4th in goals scored per game. In the middle (quite literally) of the Owls' early offensive output has been former U.S. National Team Member Luis Gil. The 29-year-old San Diego native is tied for most assists on the team and has the second-most chances created in the league with 16, including 5 in the Owls' most recent match-up against Chattanooga. In an offense hungry for goals this season, look for Gil to lead the Owls' attack in challenging a traditionally sound Greenville defense.
SERIES HISTORY
The all-time series between the two clubs is 1-2-3. The Owls will be searching for their first win over Greenville since the biggest win in the series in the 2021 USL League One Final, where Omaha soared 3-0 to its first league championship. It's always a tough battle between the 2020 and 2021 League One finalists, who drew on two occasions last season. The only win for either side came in June, when Greenville handed Omaha its first home loss of the year.
ABOUT GREENVILLE TRIUMPH SC
One of League One's perennial powers since its inaugural season in 2019, Greenville Triumph is never a side to be taken lightly. The Triumph have experienced an up-and-down season up to date with a record of 3-5-1 and will be looking to bounce back into the win column after dropping a 2-1 contest against league newcomers One Knox SC over the weekend. Greenville comes in scoring the second-most goals in the league but is also tied for most goals conceded. The offense features a dynamic scoring duo in Lucas Coutinho and Noah Pilato, as well as the league's assist leader Leonardo Castro and exciting newcomer Lyam MacKinnon.